2021 Annual Conference Exhibitors
Please Contact Debbie Kluth with any questions:
Dkluth@tml1.org (615) 425-3908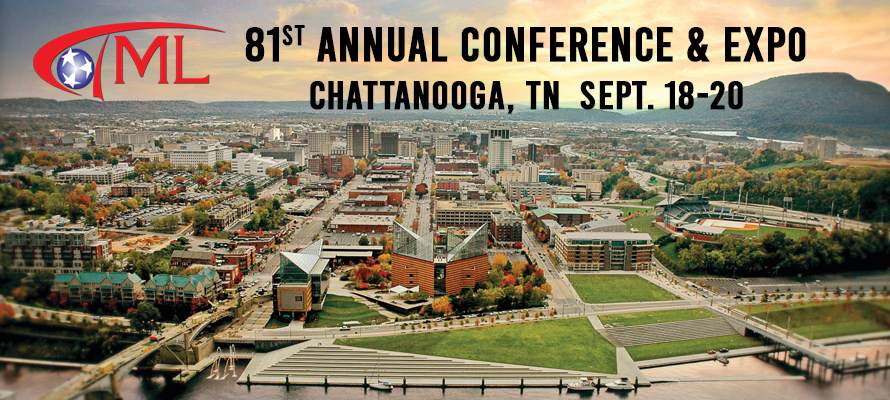 TML's 81st Annual Conference is scheduled for Saturday, September 18, 2021, through Tuesday, September 21, 2021, at the Chattanooga Convention Center. Exhibition will take place on Sunday, September 19 and Monday, September 20 with load-in available on Saturday, September 18.
Use the forms below to register for conference, learn about additional sponsoship opportunities, or access other essential resources.
Conference Agenda (Updated 8/24/21)
Exhibit Hall Floor Plan with Booth Numbers (updated: 8/12/21, use when registering to make your preferred selections, X = sold)
Fern Company -- Providing Exhibitor Services for Event
Chattanooga Convention Center Website
SCHEDULE TIMES: INSTALLATION AND DISMANTLING OF EXHIBITS
Chattanooga Convention Center Exhibit Hall C & D, will be open for set-up Saturday, September 18, 2021 and Sunday September 19, 2021 for set-up with the following schedule: Saturday: Equipment dealers displaying trucks or large equipment must have all equipment at the entrance by 10 am... All other exhibitors may install their displays between 1-4:30 pm. Sunday, registration hours are 7:30-9:30 am. TO MAINTAIN THE INTEGRITY OF THIS EXPO FOR BOTH THE EXHIBITORS AND ATTENDEES, ANY DISMANTLING OF DISPLAY BEFORE 3 PM MONDAY, September 20, 2021 EXPRESSLY PROHIBITED. FAILURE TO COMPLY MAY RESULT IN SURRENDERING YOUR BOOTH SPACE FOR THE FOLLOWING YEAR. All displays must be dismantled and removed before 6 pm, Monday, September 20, 2021. It is recommended that you bring your own carts or dollies.
Additional Opportunities
2nd Annual Scholarship Golf Outing at The Bear Trace -- Register to Sponsor and Play

Tennessee Municipal League Sponsorship Opportunities -- Application Form
Tennessee Town & City Newspaper Advertising Opportunity
Marketplace Showroom Advertising Opportunity