The 100 Day Report
Greetings from the Executive Director; A Report of the First 100 Days.
On March 15, the TML held its executive committee and board meetings virtually, as well as its annual legislative conference. We were pleased to have Governor Lee, Lt. Governor McNally, House Speaker Sexton, and Comptroller Mumpower address our group live. We also were pleased to have our state & local government chairs and the Commissioner of Revenue as part of the event.
During the TML Board of Directors meeting, as TML's new executive director, I reviewed my first 100 days. The following highlights are from the report along with a few insights that will advance our organization and the interests of the people we all serve.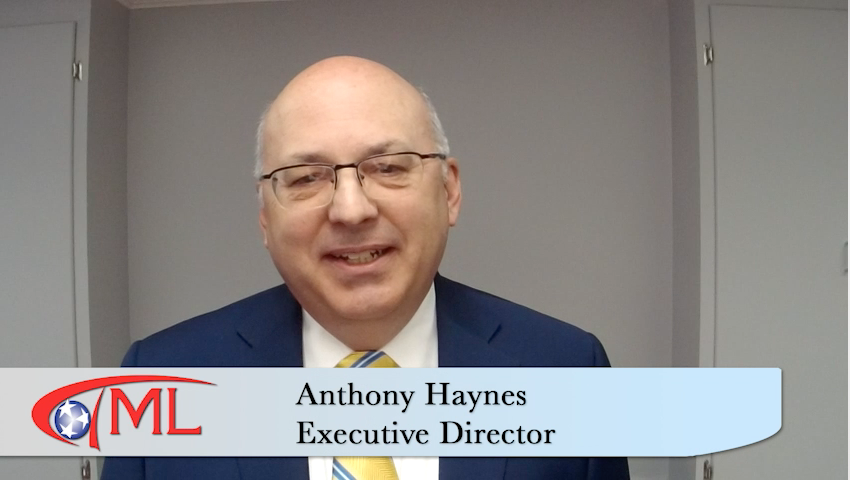 The 100 Day Report
This is day 105! First, I want to thank the members of the Search and Executive Committees and the TML board for the opportunity to serve as your executive director.
In recent months, I have listened and learned from our mayors, city council members, city managers, board members, and legislators. Your time and counsel have answered the question: "What advice do you have for the new guy?"
During interviews for the position, one question was on my approach to the TML leadership job. These are my four areas of focus:
Unification – Organizing ALL of our cities as one voice and one force to tackle our grand challenges and provide leadership for our state.
Respect and Credibility – The way we do business with others -- with our members and our government leaders.
Communications and Visibility – TML needs to be seen, heard and visible in our engagements. The ways we communicate, directly and through various media channels, are critical for the organization.
Value – Members, sponsors, partners and all who interact with us must find real value in our actions, and our capacity to lead.
During the first 100 days, these are some of the key actions that are underway:
Communications – Communication is our lifeblood. The various ways in which we communicate have dramatically changed and there is no end in sight. We are assessing our existing communications tools and platforms and looking at ways to strengthen our internal and external communications and messaging. We have engaged an experienced, outside media and communications consultant to work with us on these initiatives and on developing a strategic communications plan.
Digital Platforms – A Migration to digital platforms helps us:
Provide immediate news and information you need and use;
Capture analytics on our government relations work to share the return on investment;
Expand our base of friends and supporters to include the public through connections on Twitter, Facebook and Linked in.
Assess the real economic value of our brand and reach based on human interactions and our media, messaging and engagements.
Improved Reporting to the leadership and Board – With the start of 2021, a weekly report is distributed to the executive committee that summarizes key points of staff engagement, issues and activities. A monthly report is generated to the full board. We believe a better informed board makes for a stronger organization.
Strengthening the Partnership among TML, UT-MTAS, Bond Fund and Public Entity Partners – All of our sister agencies were established by TML to assist with our mission for cities to have better access to capital, improve risk management and to provide essential training and consultation on municipal issues. At the start of 2021, we committed to meeting monthly to discuss and implement ways to achieve our mission and better support our towns and cities.
Strengthening the partnership with our City Managers and Administrators – Also beginning with the new year, I committed to a standing meeting with the leadership of the TN City Management Association. These are the professionals who passionately support our cities and state and have a wealth of knowledge to share.
Looking ahead
Survey and Strategic Plan – An updated strategic plan was identified as a necessary tool to help move our organization forward. We are working with UT-MTAS, in developing the framework for our Strategic Plan that will launch with a stakeholder survey. Working with the executive committee, we will review and fine tune the next steps with the goal of engaging our membership in early summer.
Employee Baseline Assessment & Performance Metrics – TML's job/position descriptions will be reviewed, updated and include measurable, performance metrics. This will make us a stronger team and perform at a higher level for our members.
Annual review our legislative impact –At the end of a legislative session, our legislative team will review and reflect on our performance - how well we did, what worked and what could have been improved. We will also be looking at our team's metrics and ROI.
Continue to Evaluate and Assess the Value of our Brand for Sponsorships and Affiliation – Our sponsorship levels were updated over a decade ago. It is past time for a review. The move to digital platforms enables us to gather various analytics, offering sponsors tangible data on the impact of their TML investment. This information will also provide additional capital support for TML to achieve our mission of support for Tennessee's cities and towns and the people who live and work in our communities.
Going forward, I will share with you the progress being made on these focus areas, and new ones that emerge. Your continued support of the Tennessee Municipal League will strengthen the voice of our towns and cities and the Tennesseans who call them home.