Athens online budget tool aims to educate, engage citizens in city budgetary process
By KATE COIL
As budget season arrives, officials with the city of Athens are giving local residents a unique tool to both learn more about the budgeting process and give officials feedback on what they want to see funded in the city.

Athens City Administrator C. Seth Sumner said the city has made available a budget tool through Balancing Act, a creation of Colorado-based public policy consulting firm Engaged Public, that helps communities educate and engage citizens in the often-complex budgeting process.

Sumner said the city had been looking for ways to better involve citizens with the budget process, especially as the pandemic made the typical meeting process less desirable for many.

"We are still living in the pandemic, but wanted to find some way we could reach out and listen to our citizens to allow their input on our budget process really for the first time outside the normal public hearing process," Sumner said. "I asked my staff to look around for tools and see what was available so we could make this a good, safe process and possibly even reach a larger crowd than we could do if we were meeting in-person."

Through Balancing Act, Sumner said citizens can utilize two tools to learn more about the budgeting process. The first is a taxpayer receipt that shows residents what their personal taxes pay for in terms of city services.

"More than four-to-one engagements are on the taxpayer receipt," Sumner said. "Residents plug in their home value, and based on that it will calculate roughly what their property tax for the city of Athens is. Based on their income level, it will calculate how much sales tax they pay. They will then get to see how much, say, a year of police service costs. It breaks everything down by the services that matter."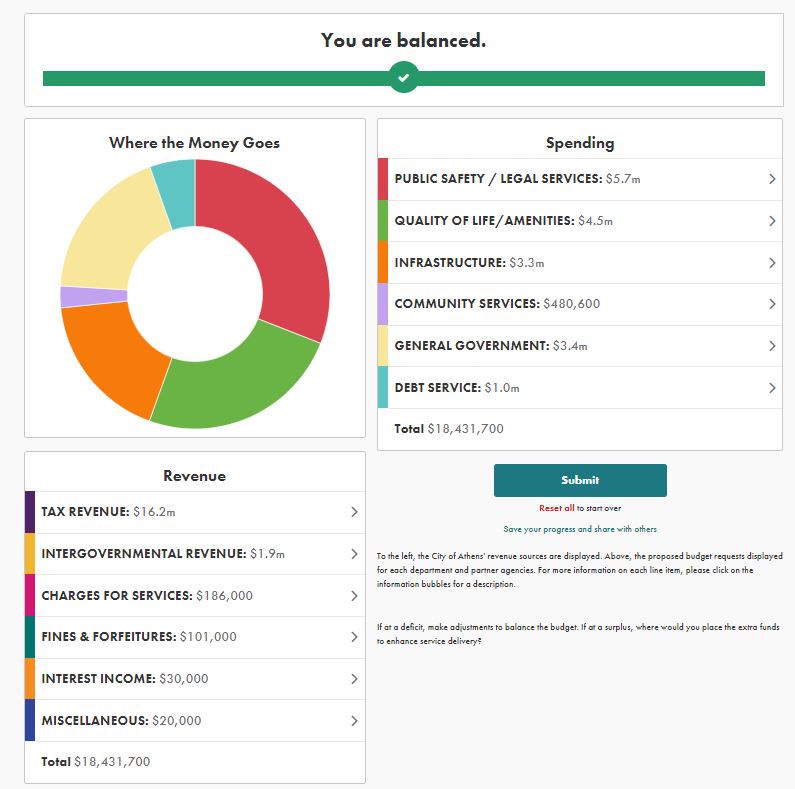 The second tool is one to balance the overall city budget, allowing citizens to add and subtract money from different departments to balance the city's budget based on what is important to them.

Citizens can subtract from some departments and add to others to change funding allocations for various departments. The only way to add cash to the budget, however, is to raise the city's tax rate. Citizens can also decrease the tax rate to see what would happen to the budget if less money was available.

Sumner said the tool was set up so citizens could understand the challenges city officials face when trying to create a balanced budget based on current income levels.

"Something that was important to us when we were setting this up was the visual perspective," he said. "You can easily look at the pie graphs and see where the majority of the money is going. We have incorporated our priority-based budget philosophy into this tool. When we looked at setting up the simulation, we put in our actual rough numbers for this upcoming fiscal year. Hopefully, one of the many things folks will get out of this is that it is always a challenge to figure out how we are going to be fiscally responsible but improve services. I hope there is a little bit of a better understanding about what our officials go through each year to create the budget."

One of the goals of the tool is to engage citizens who may have never engaged in the budget process or feel more confident in doing so from their phones, tablets, and other devices. Sumner said upwards of 74% engagements with the tool have been on mobile devices, often from links on social media.

"I hope our citizens see the value they are getting for their tax dollars," he said. "I hope to see that our citizens' dreams are accounted for, that they get to actually share what they want the city to do or new services and programming ideas they want to see. They may never come to a public meeting and say it or call the city manager's office. However, they might use their tablet in their living room to type out that measure. This is a new experience; it's an educational tool. It's something I hope our citizens can gain a better understanding about what goes in to creating this most important legislative item that occurs annually and what it takes to actually balance that."

Sumner said the process also always city officials to more clearly see what is important to residents.

"For the city, we always try to help, educate, and engage our citizens in our processes," Sumner said. "When we engage our citizens, they tell us what they want, and what they want to pay for and then we go and do those things. I know that we will always do the right thing because we are listening and doing what our citizens want. From the city's side, this is a direct engagement we get from our friends and neighbors here in the Friendly City. They tell us what they want, and we are able to ensure those ideas, those needs get discussed by the elected body. We could actually see a more direct version of democracy here in our community in the most important ways that we have, which is what are we going to do and how are we going to pay for it."

As citizens continue to engage with the tool, city officials are already considering ways to expand usage of the tool and make it a more permanent part of the budgeting process.

For more information on the tool adopted by the city of Athens, visit https://abalancingact.com.