Chattanooga explores new ways of developing workforce at all ages
By KATE COIL
TML Communications Specialist
By bringing local governments, schools, and businesses together, officials in and around the city of Chattanooga are exploring new ways to implement workforce development from pre-K to adults looking for continuing education.
Jermaine Freeman, senior advisor for economic opportunity and interim administrator for the Chattanooga Department of Economic Development, said the city of Chattanooga began to focus on workforce development in 2018 after a study on affordable housing found that raising the average wage of the local workforce could help with many community issues.
"At that time, less than 40% of Chattanoogans had a post-secondary credential and most of the jobs we were creating in our city – and we still are creating – were requiring post-secondary credentials," he said. "We were seeing a division happen between the educational level needed for the jobs we were creating and many of our citizens having lower educational attainment."
The city conducted a series of roundtables to address workforce development challenges. Around the same time, the city helped with the development of Chattanooga 2.0 to both address the educational gap between the workforce – both for adults and those still in the K-12 system. The organization has become a liaison between the city, county, and local higher education institutions.
Like many municipalities across Tennessee, schools in Chattanooga are part of the larger Hamilton County School System, but the fact that local schools are run through a county system rather than an independent city system does not mean that the city cannot play a role in helping determine positive outcomes for local students.
One of the ways Chattanooga has gotten involved in local education is through the establishment of the city's Office of Early Learning by Mayor Tim Kelly.
"As we looked at educational outcomes and achievement, we began to realize there was a missed opportunity by not making an impact on children that were under five years old, essentially," Freeman said. "A lot of times, children end up staying with grandparents or not staying at an early childcare center where they receive quality education before they go to pre-K – if they go to pre-K. We saw there were a lot of students who were not prepared to enter kindergarten. We focused on creating 'seats for success' to prepare these kids for kindergarten."
Blake Freeman, executive director of Early Postsecondary Success for Hamilton County Schools, said another initiative the city of Chattanooga, the Hamilton County School System, and Chattanooga 2.0 have worked on are the Future Ready Institutes at high schools across the system.
"The career academy model is basically getting kids to look at the type of career and technical education that is offered in your high school settings and how that applies to what is happening in your local workforce," Blake Freeman said. "We started to look at internal improvements and how we could collaborate with our external partners."
He said the system looked at ways to show students both the value of college and technical education track programs and help each student find which path was best for them.
"We wanted students to have a four-year experience and graduate from high school with industry certifications that are valued by the community," he said. "We looked at the programs we were offering to make sure they matched what the workforce need is, and how can we shift programs how it does match to those where there isn't a match."
By working with the Chattanooga Chamber of Commerce, the schools and local government reached out to postsecondary institutions and local businesses to see what they needed from graduates.
"We asked what are you seeing out of our graduates we need to improve and how to we get to a point together where we can improve?" Freeman said. "We heard loud and clear that a lot of talk about soft skills or essential skills like communications, persevering through a problem, and working through a cloud of ambiguity to see a solution rather than just giving up. We also looked at technical skills."
Beginning with 20 Future Ready Institutes in 13 high schools, the project started with ninth graders and built each subsequent grade levels. At present, there are 29 institutes in 13 schools. If the school a student is zoned for doesn't offer an institute they want to attend, they can be granted permission to attend one outside of their zone that does.
One of the ways the program works is by showing students real world applications for what they are learning.
"A lot of students want to see how what they are learning is now going to connect," he said. "We start out in the institutes with an engaging learning environment. We have that welding teacher talk with the math teacher and how they can integrate math in welding or carpentry. We ask how the literacy skills learned in English can be used by the health sciences teacher because you are going to have to read a lot if you are going into the medical field. We also ask how we can bring professionals from the business world into our schools and explain what they do on a daily basis and how what [students] are learning in high school plays into that. We also take our students out of school and into the workplace to see what it is really like."
Many students struggle because they have no concept of their future potential because adults in their lives have not modeled it for them.
"We have to build a library of ideas for our students about what life really is past high school," he said. "If we really want them to graduate and move into a great job, they have to be able to visualize that. The only understand they have about what their future can be is their family historical context."
Instead of asking local businesses for checks or donations, the school system decided to partner with local businesses to create advisory councils in schools where business officials come in to educate students or offer internship and work-based learning opportunities after or during school.
Bo Drake, vice president of economic and workforce development at Chattanooga State Community College, said leaders at postsecondary institutions are anticipating what is known as the "enrollment cliff" in 2025 when the smallest high school graduating class in recent memory will happen. Drake said this cliff is the result of the fact that people have had less children since the Great Recession, a trend that is continuing due to the pandemic and economic instability.
"The amount of talent coming into the pipeline is going to be smaller than it has been, which means that we can't be beating the same horse and expecting things to change," Drake said. "It presents us with an opportunity to work more collectively in our thought processes and to build unified pathways for individuals to access education and talent development to meet the needs we have."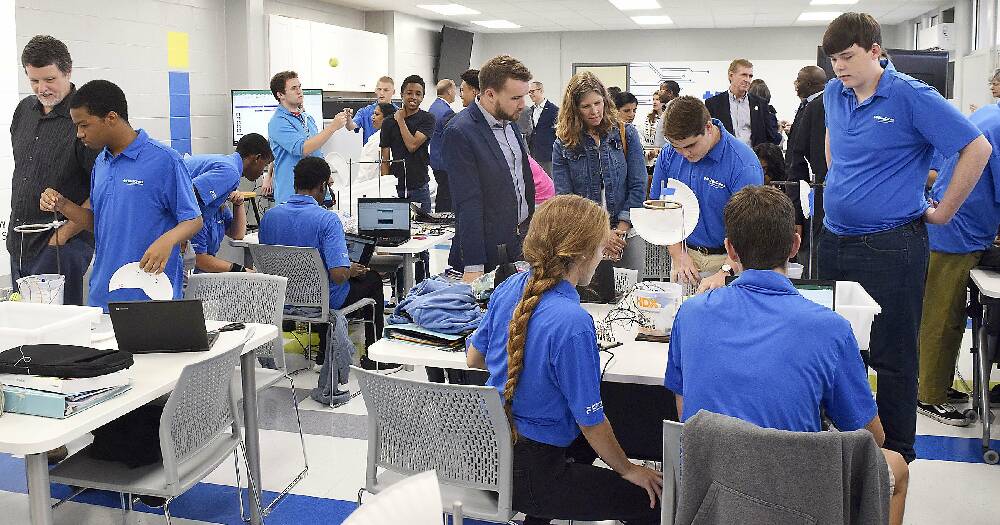 Drake said one change that needs to be considered is the approach to continuing education. Drake illustrated the point by talking about attempting to put on a job growth program that those the program targeted did not have the means to attend.
"They were working in dead-end, low-wage, low-growth jobs, and even though these were dead-end, low-wage, low-growth jobs, they couldn't afford to give that job up to go to a five-week training by a nationally accredited program that could potentially change their family because they still needed to pay rent, put food on the table, gas in the car, and diapers in the diaper bag," he said. "It was one of those moments you capture as a fail forward."
By paying individuals the same amount or slightly more than they were earning in their current job to attend these training, Drake said the program was then able to both provide local businesses with skilled workers and get those workers the skills they needed to leave their dead-end jobs for ones with more growth without having to sacrifice necessities like keeping their families fed or a roof over their head.
"You have to give people the confidence to gamble on themselves and walk away from that $10, $11 an hour job and earn while they are in the classroom," he said. "It had tremendous impact. We even had to occasionally graduate people from the program early. They could be leaders in their family."
Drake said both cities and educational institutions need to realize how and where we work has also fundamentally changed.
"We have local employers who will hire at least some of these individuals, but we have to expand. If we have learned anything since the beginning of pandemic its that we can do the kind of work that keeps our cities and businesses running from our kitchen table. We have to think about people living here while working remotely across the country."