Haynes details goals, hopes for Municipal League's future
BY KATE COIL
TML Communications Specialist
As a new year begins, Anthony Haynes, the new Tennessee Municipal League executive director, is looking forward to setting new goals and attaining new achievements for the organization.
A native of Trenton, Haynes earned his bachelor's degree in agriculture at the University of Tennessee Martin and then a master's degree in public administration from Memphis State University. He also attended the Institute of Executive Management (IEM) at Harvard University's Graduate School of Education.
He began his career in public service in Washington, D.C., holding numerous roles including director of government relations for the National Association of Conservation Districts; as a congressional liaison for two Secretaries of Agriculture; as deputy administrator of the USDA Rural Utilities Service, formerly the Rural Electrification Administration; and as deputy governor of the Rural Telephone Bank. During his time at USDA, he received the department's highest award – "The Silver Plow Award" – for his work as a member of the Secretary's Civil Rights Task Force.
He returned to his home state in 2002 to serve as executive director of the Tennessee Emergency Communications Board. During his tenure, the board was voted "Best State or Regional Program" by the E-911 Institute in Washington, D.C., and led Tennessee to be one of the first states in the nation to complete wireless E-911 coverage statewide.
Haynes then went to work for the University of Tennessee where he served as director of state relations and associate vice president at UT, as well as vice president for government relations and advocacy before coming to TML.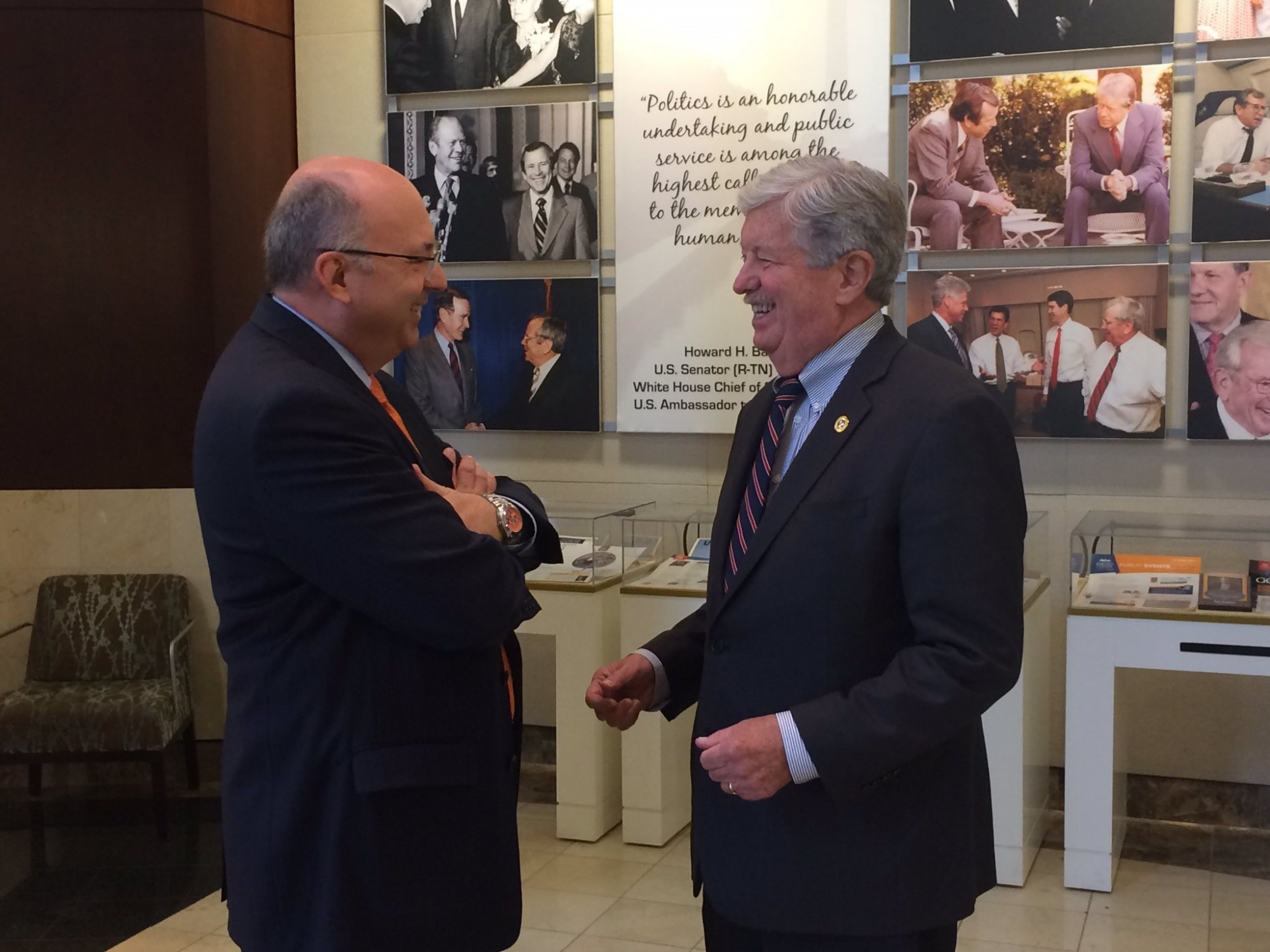 TT&C: You've had an impressive career in government relations. What first interested you in government and public service?
Anthony Haynes: I've always had an interest and a calling in the public's business. I grew up in a household where my father was a federal government employee – he worked for the USDA Soil Conservation Service – and my mother worked for our rural electric co-op, a non-profit utility.
Just knowing the importance of their work, as well as seeing them help the older people in our community, it really shaped my view of the world. It helped confirm that public service and serving the community was honorable work.
TT&C: How have your various roles with USDA, the Tennessee Emergency Communications Board, and the University of Tennessee helped prepare you for your role with TML?
AH: I can't think of a job I've had since graduating from college that didn't have some aspect that directly impacted municipalities. I think of the issues I worked on at those jobs: water quality, rural development, public power, emergency communications, broadband, and bridging the digital divide. In my last job at UT – as with any land grant university – we worked with towns, cities, and the state to improve the lives and economic prosperity of its citizens. I think all those experiences helped prepare me – to understand the issues and see all sides.
Through my work at the state E-911 board and UT, I traveled all across the state and learned so much about what is going on in different communities. I am a firm believer that this state has an enormous amount of untapped potential in terms of economic opportunity and growth. To realize it, it is just a matter of pulling together the right people and facilitating their work. What is good for one town or city, is good for all Tennessee. We really have to start looking at the world that way. The more we do to help each other, the more we do to help ourselves.
TT&C: Certainly, you have had a long and successful tenure with the University of Tennessee. Why did you want to pursue this opportunity with TML?
AH: It was a tug. I had a wonderful of job at a university I loved — almost as much as my wife and family. I have always had an incredible passion for work at the intersection of government, politics, and public advocacy, especially on a grand scale. TML presented a leadership opportunity that directly benefits everyone that lives in the state of Tennessee. That had great appeal.
TT&C: What are some of your short-term goals and objectives for TML?
AH: I think right now it's important that I continue to assess the real strengths, capacity and opportunities of our organization and its members. I believe the full leadership potential of our organization and how it can move Tennessee forward has largely gone untapped. We need to change that. That starts with the current legislative session and helping lead our communities through the pandemic.
I also want TML to meet, if not exceed the expectations of all members and stakeholders. To that end, we will soon start the process of developing a new strategic plan and membership/stakeholder survey. I've asked UT-MTAS for their assistance as the staff and board engage our partners, membership and key stakeholders in these two initiatives.
TT&C: Long-term, what do you hope TML as an organization will accomplish or will be recognized for?
AH: Four things. One, an even greater unified voice and unified movement. We, as municipal leaders, have to stick together. We have to stand together as one. When we do that, we will not only be a respected voice, but we will get the outcomes that all of us want for our towns and cities.
Second, enjoy even greater respect and credibility. We want when TML is mentioned that there is nothing but complete respect for it. And when we speak, our recommendations are taken. That takes work, a lot of engagement, and also being very conscious of the responsibility we all have to protect and promote the brand of TML, what it stands for, and the people it represents.
Third, communications and visibility. Communications are critically important not only among our membership but how we move the organization and our interests forward. We need to constantly be seen and heard on issues that our communities and state struggle with.
Last but not least is value. We want every member of TML, every municipal employee, and even the people of the state of Tennessee to recognize the value TML brings to the table. They may not know what all we do, but they need to have a positive association when they hear TML because they know we are adding value to the state. That value is something in the first 45 days on the job I have seen in abundance. We need others to see that as well.
TT&C: What are you most looking forward to when it comes to working with TML's membership?
AH: For me, it is collaborating with local leaders in making great things happen for our communities, and ultimately our state. When we get through the pandemic, I am eager to meet with our membership in their communities because that is where great things happen and the work gets done.
TT&C: What do you think are the biggest issues facing municipalities today? How do we tackle those issues?
AH: Many of the greatest issues we face are tied to managing today's economic and political uncertainty and resulting risks. Local leaders are very creative and capable. They can manage through just about anything or any situation. But when actions taken by either the state or federal government make it hard on local governments to plan, manage or lead, the ultimate impact is on their ability to grow jobs, improve community quality of life and plan for the future.
We can help our towns and cities by working to secure positive outcomes at the state and federal level. We have a number of years of collective experience and expertise among the TML staff, board and grassroots leaders. Bringing all these people together and effectively engaging with state and federal government leaders, will result in more positive results and overcoming our potential challenges.
TT&C: How would you describe your relationship with members of the Tennessee General Assembly?
AH: I have been very fortunate to enjoy the relationships I've had with legislators and officials over the last 15 years. I've been fortunate to enjoy their trust and benefited from being able to work with them on key issues of the state. A lot of members of the General Assembly and state government over the years have become like extended family. That dynamic motivates me even more to be a good partner.