Historic Depot Street makeover first phase of Greeneville downtown revitalization plan
By KATE COIL
Construction work will soon begin on the first phase of a project aimed at revitalizing downtown Greeneville.
The first phase of the project will include 18-months of construction along Depot Street, bringing a new streetscape, underground utilities, and a designated area for street festivals and fairs to one of the most historic streets in the town.
Greeneville Mayor W.T. Daniels said Depot Street was chosen for the first phase of the project because the street has potential to be a major economic engine for downtown.
"The intersection of Depot and Main streets are the nucleus of our downtown," Daniels said. "There are a lot of available buildings there and a lot of opportunity for growth. We are working on several infrastructure projects, including a parking plan for the area. We have had a lot of plans for downtown Greeneville, but this is the first time the city council has really put our money where our mouth is."
Town Administrator Todd Smith said Depot Street is one of the most historic streets in Greeneville with the President Andrew Johnson Historic site on the eastern end, the General Morgan Inn and Convention Center in the center, and the U.S. District Courthouse anchoring the western end.
"Depot Street, interestingly enough, has most of the old historic buildings that are still here," Smith said. "There is a lot of opportunity there because many of these historic buildings are vacant. We feel it gives us the greatest opportunity to do something productive and that looks good in the public sphere and also brings in investment from the private sphere."
Smith said the revitalization project has been several years in the making.
"The project was born out of the 2012 strategic plan for the town of Greeneville," Smith said. "One of our initiatives was downtown redevelopment, and we did a master plan for the downtown in 2017. From that conceptual design, we built out downtown redevelopment in three phases. We started honing in on phase one, which is what Depot Street reflects. We hired Vaughn and Melton who are finishing the design, which will we then bid it out."

However, the pandemic has created some delays in the project's progress.
"We thought we were going to be ready to go this same time last year, but when the pandemic hit in March, we decided, like many other communities, to put capital projects on hold," he said. "We then went back in November and modified our budget to put capital projects back in the plan. It was January before we could restart it."
In addition to new sidewalks, landscaping, and lighting, the project will see a makeover for how utilities operate in the area.
"We are redoing all of the utilities on Depot Street so all the water, sewer, power, and natural gas will be new infrastructure underground," Smith said. "This project has been pretty timely because our water lines are more than 100 years old, so it just made since while we had the streets dug up to replace all of that infrastructure. We are also going to have WiFi downtown."
A part of Depot Street will also be set aside for events like the local farmer's market, street fairs, and other events.
"The block of Depot Street from Main Street to Irish Street has been honed in on as our special events block," Smith said. "It will have a decorative stone look and feel on the street top and have decorative street paving. In the middle of that there will be a pretty large table-top concept in the middle of the street. Our hope is for special events, farmers' markets, and concert events, we can block that whole area off and make it a pedestrian area for special events. At the end of the day, our goal is to have visitors look at that section of Depot Street and be talking about it."
Smith said the overall goal is to encourage others to invest in downtown Greeneville.
"We took the approach of why should we expect the private sector to invest in our downtown if the public sector isn't willing to invest in it," he said. "So we are making the initial investment with our public dollars downtown in the hopes that the private sector sees that investment and feels this is a worthy investment for their dollars. We are hoping particularly to see some investment from the commercial and retail sector. We have a lot of activity with the federal courthouse and the historic sites that we have downtown, but we don't have a lot of restaurants, pubs, and retail stores."
Public input has been a major part of the project, especially from business and property owners on Depot Street.
"The feedback has been very positive," Smith said. "We have gotten farther than we've ever been with a redevelopment project, and people have realized that. Next month we are going to see dirt turning, which is really exciting. Our businessowners downtown – in spite of the fact they know there is going to be road closures, construction, and detours downtown – they are excited and ready to be involved with it."
Daniels himself has renovated half a dozen historic structures in downtown Greeneville, including the 1820 house on Main Street – the second oldest in Greeneville – where he and his wife live.
"We are doing our best to bring downtown back to life," Daniels said. "I think this will bring revitalization to our downtown and hopefully, it will encourage people to make personal financial commitments to downtown. We want to provide the infrastructure for growth and development, and let the private sector bring projects and businesses. We have already seen that happen with the renovation of the General Morgan Inn. There is a lot of excitement about this project."
Smith said Depot Street's makeover is only the first step in a ten-year plan to reinvigorate downtown Greeneville.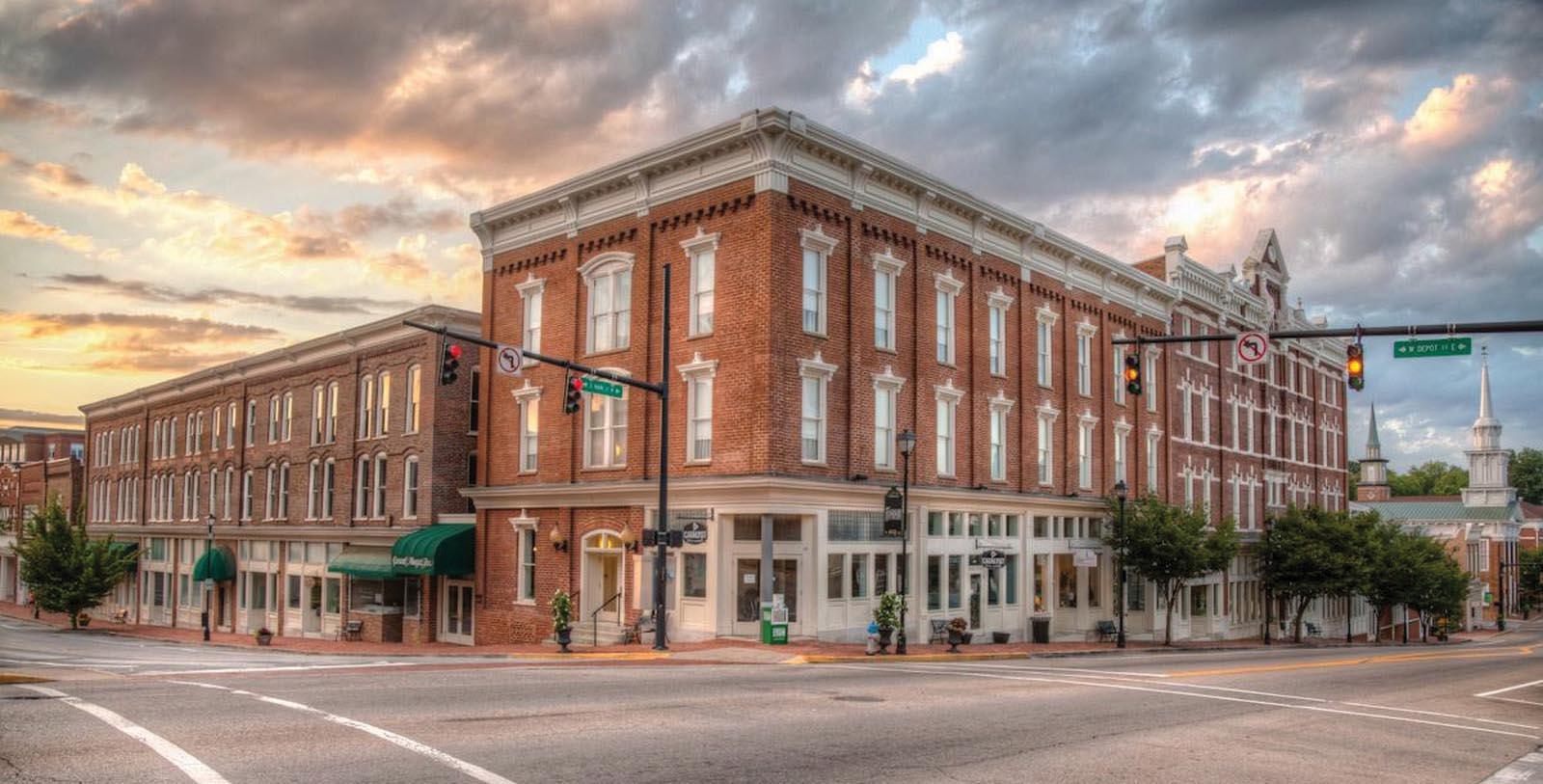 The town is already considering plans for a permanent farmer's market facility, more pedestrian areas, and opening up the area around Richland Creek to make a pedestrian promenade with outdoor dining.
"This is an exciting first phase, but there is still a lot of work to do," Smith said.