Role of local airports vital to tourism, military operations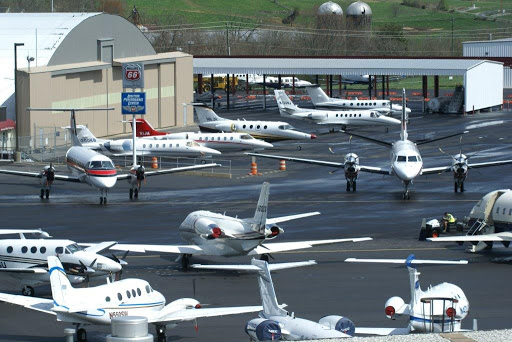 By KATE COIL
TML Communications Specialist
Generating more than $20.5 billion in economic impact for their communities, small and regional airports across Tennessee play a major role in generating value to both the state and local municipalities.
A recent Tennessee Department of Transportation (TDOT) study on the economic impact of aviation in Tennessee found that the industry generates $40 billion worth of economic benefits to the state and employs more than 220,000 people. Of that economic impact, 51.25% came from the 70 small and regional airports operated out of the state's non-metro municipalities.
While serving local businesses through travel, shipping, and other services is one of the major drivers of this economic impact, local airports can also serve other important roles in their communities. John R. Black, executive director of the Smyrna Airport, said many people are not aware of the variety of services their local airport may offer.
"There are so many services that airports provide, like medical services, agriculture, cargo and freight, law enforcement, military, and flight training," he said. "There are medical services like life flight services that are located at airports all around so they can easily respond to things like traffic accidents. Here in the last year, three times a week we fly COVID samples to the labs. During the pandemic, we have played a pretty big role in that. I know in West Tennessee, especially, they have a lot of crop dusters and work with agriculture."
From hosting talent for local musical festivals to bringing in vacationers to facilitating military operations, local airports serve a variety of functions.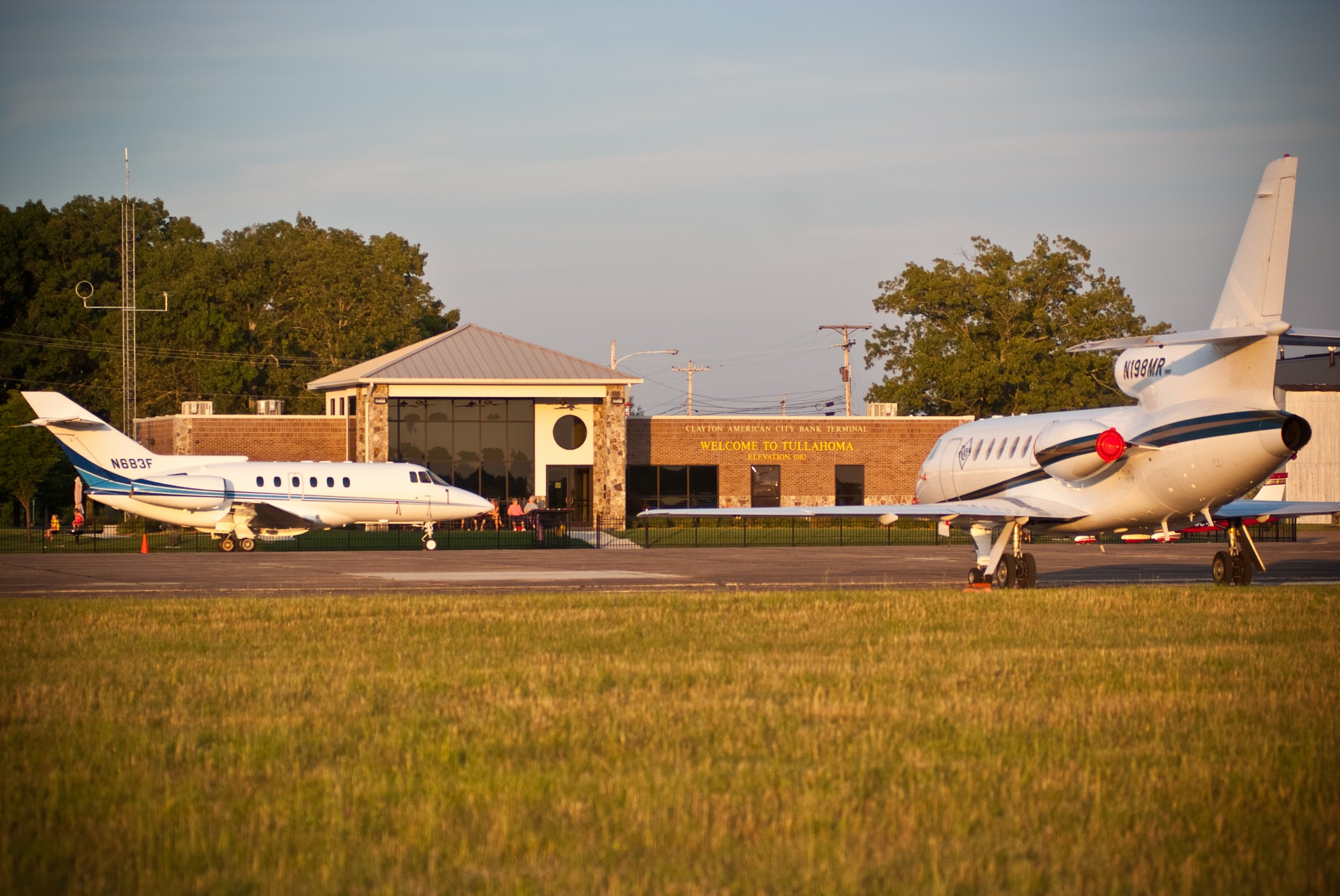 COME FLY WITH ME
Travel is big business for airports across the state. Of the nearly 7 million people who came through Tennessee airports during the year of the study, approximately 70% of air travelers came for leisure purposes. Of these visitors, an estimated 5.7 million came through commercial air service while 884,000 flew into a general aviation airport. Tennessee airports generate more than $8.6 billion in visitor spending directly associated with these travelers.
Jon Glass, airport manager of the Tullahoma Regional Airport (THA), said the airport gets a lot of visitors flying in to visit the nearby Jack Daniels Distillery in Lynchburg and the airport itself is the home base of Skydive Tennessee, a local business owned by former military personnel that gives visitors an extreme view of Middle Tennessee, whether it's their first time skydiving or they are an old pro.
Another major tourism draw in the Tullahoma Area is the Beechcraft Heritage Museum, which has its roots at the airport.
"The Parish family started the Beechcraft Heritage Museum here in 1974," Glass said. "They were big enthusiasts of the Beechcraft Staggerwing, and it's just grown over the years to include all Beechcraft models. Walter Beech, the co-founder of the Beechcraft Aviation Company, was born in Pulaski. Every October the museum has a 'Beech Party' that brings in about 150 aircraft. They have expanded to having more events and have a pretty full schedule this year. There is an event about every other month."
Tullahoma has also garnered a national reputation for aviation enthusiasts.
"In 2014 and in 2019, the Aircraft Owners and Pilots Association picked our airport as the location for one of their regional fly-ins," Glass said. "Twice we have been selected as one of four or five airports in the country used for that event, which is huge."
Of course, the biggest event that draws the biggest names to THA is actually an event that takes place in nearby Manchester. THA is the closest general aviation airport to the world-famous Bonnaroo Music and Arts Festival. Traffic at THA increases by as much as 80% during the month of June when both performers and attendees fly in for the event.
"We have had pretty much every star you can think of fly in for Bonnaroo like Paul McCartney, Elton John, Tom Petty, Metallica, Pearl Jam, Eminem, Steve Martin, Sting, Beyonce, Jay-Z, and I could go on and on," Glass said. "Most of the big performers at Bonnaroo use our airport to stage from. They mainly fly in the performers, and then Bonnaroo picks them up in SUVs or limousines and drives them to the festival. Before I worked here, I worked at the Nashville airport. I occasionally might see Vince Gill or Alan Jackson, but it was nothing like what I see here."
The Tri-Cities Regional Airport (TRI) is also no stranger to big names coming through the terminal. From NASCAR drivers to musicians performing at venues like Bristol's Rhythm and Roots Festival, TRI Executive Director Gene Cossey said the facility sees its fair share of celebrities.
"We see people come in all the time for music festivals and for race weekends at Bristol Motor Speedway," he said. "A lot of times folks come in for those on private aircraft, and sometimes they come in on the commercial aircraft. We definitely get drivers, team owners, and musicians coming through. The NASCAR drivers tend to ship all of their cars and equipment in on trucks, but they fly their crews and drivers around to the events."
Cossey said the airport also brings in visitors to see some of the area's other biggest tourism draws.
"The biggest thing the airport does for this region is facilitate easy travel in and out of the area," he said. "We have a lot to offer in this area as far as tourism. People come here all the time for events, and we expect to see more of that as things like the casino planned in Bristol, Va., open. We offer easy access to the Appalachian Trail. We work a lot of with the different tourism groups to develop more air service.
TRI operates commercial flight services that allow locals to take trips for business or pleasure to a variety of destinations. The airport offers regular flights from the Tri-Cities area to Atlanta, Charlotte, Dallas-Ft. Worth, Orlando, and St. Petersburg-Clearwater, Fla. Outside of Tennessee's four major metro areas, TRI and Jackson's McKellar-Sipes Regional Airport are the only two that offer regularly scheduled commercial flights.
"The biggest thing our region as a whole benefits from is our commercial air service," Cossey said. "We have American, Delta, and Allegiant Air flying in and out of the airport on a daily or weekly basis. We have flights daily to Charlotte, Dallas, and Atlanta and connecting to the rest of the world there. We occasionally get charter flights in that can go anywhere. We have a lot of people in the community who are flying for leisure travel."
Airshows can be another big draw to regional airports. Black said visitors from as much as nine different states come annually to watch the Smyrna Airport's annual show.
"You would be surprised how much tourism activity we see through here," Black said. "A lot of our corporate aviation actually goes out on trips on weekends or brings people in to town for different events. We also hold one of the major signature events in this area, which is the Great Tennessee Airshow. That single weekend has a million-dollar impact on the area. This year is a 50th anniversary of the airshow in June. The show draws from every state that touches our border and even some further away. We usually have folks from around a 200-mile radius come. People love aviation. We also offer airport tours and a big fish fry in the hangar that brings people from all around. "
Millington-Memphis Airport Executive Director Roy Remington said the Millington airport also holds a popular regional airshow. Known for his high-energy aerial acrobatics, airshow pilot Skip Stewart is based at Millington. When he's not practicing, he's one of several pilots who is often featured on the bill for the Midsouth Airshow. The event has been known to attract approximately 75,000 spectators to Millington.
"The Blue Angels are really the big draw, and they're the rock stars of the aviation world. When they come to town, Millington gets the tax receipts from fuel sales, people who buy food, rent hotel rooms and spend the night. All of that helps drive the local economy. It also signals how important the U.S. military is not only for Millington but also our nation. Those pilots are the best in the world, and they really demonstrate the pride and strength of the U.S. Navy, which is our largest employer here in Millington."
AIMING HIGH
Many of Tennessee's airports have longstanding connections to the military. During World War II, the military and the burgeoning U.S. Air Force used many already existing airports as training grounds or bases of operations as well as built many new facilities across the state as part of the war effort. After World War II, several of these air bases were sold off as surplus and were developed into the local airports used by communities today.
Millington is one such community that has deep ties to the military, both as a city and through its airport. Millington is well-known as the home of Naval Support Activity Mid-South, a naval base that provides logistic and operational support. The base began life at what is now the adjacent Millington-Memphis Airport before the Air Force became its own branch of the U.S. military.
"Millington used to be the Naval Air Technical Training Center for all of the U.S. Navy's aviation training. We only became a civilian airport in 1999," Remington said. "The city fathers of Millington and Memphis saw aviation as the next big thing in the early 1900s. The airport here at Millington was first opened here in 1917, right on the cusp of World War I. The Millington Chamber of Commerce and Memphis Chamber of Commerce gave the seed money to grade the property, clear the timber, and then donated it to the U.S. Army. Any aircraft operations during World War I were under the U.S. Army Signal Corp, and they operated the equivalent of an air base. After the war, it fell into general use, but with World War II, the Navy saw this centrally located inland base as ideal for their naval air operators, so they took it over. They then really built it out. "
In 1942, the facility became the U.S. Navy's Naval Reserve Aviation Base, later becoming Naval Air Station Memphis and the Mid-South Naval Air Station. It wasn't until 1993 that the facility and 550 acres of undeveloped adjacent property were transferred to the city of Millington as a result of a realignment of military bases.
Today, Remington said it's not unusual to see naval personnel at the airport.
"All of the high-level staffing decisions, all of the admiral advancement boards, and ordering and administrative functions of the U.S. Navy are all based in Millington," he said. "Every U.S. sailor around the world gets their orders from Millington. Even though they turned over the airport proper, they kept the property adjacent to it and have about 8,000 soldiers and sailors based there. Even though we aren't a base, they still use us quite a bit. You can imagine with 8,000 people, there are going to be needs for people to come for staffing reasons, dignitaries that fly in, and VIP transit. Squadrons will fly in to the airport together, go across the street, meet with their detailers, and figure out the next step of their careers."
Tullahoma's THA began life as William Northern Field, an air training base for Liberator bombers originally constructed for the U.S. Army Air Corps. The airport was then sold as military surplus in 1946. Recently, renovations began a World War II-era hangar at the airport by a local company that intends to refurbish it for use by three local businesses.
Glass said the airport's military legacy can still be felt.
"When the airport was declared surplus, the city of Tullahoma was given the first option to buy it, but the city couldn't afford it," he said. "John Harton, who was a mayor of Tullahoma and a state treasurer, bought the airport in 1947 and kept it going for 30 years as a privately-owned, public use airport. In 1977, the city began buying back the airport from the family and it is now fully city owned. However, the military conduct drills here from time to time, usually out of Fort Campbell."
The Greater Tullahoma area is still home to the Air Force as well. In 1949, Tullahoma was selected by Congress as the site of a new air engineering development center, which is now known as the Arnold Engineering Development Center at Arnold Air Force Base.
While the actual airfield at the base was decommissioned in 2009, Arnold Air Force Base is still used for missions supporting the Tennessee Army National Guard and Fort Campbell. It also maintains the largest and most advanced complex of flight simulation facilities in the world. Military contractors also work in the area. Glass said one of the airport's tenants is XP Services, who provide government and military contracting.
The Smyrna-Rutherford County Airport was built in 1942 to serve as the home of the Army Air Force Combat Crew School, training troops to fly B-24 and B-17 aircraft. It was deactivated at the end of the war and then reactivated in 1948 under the U.S. Air Force and renamed Stewart Air Force Base in 1950. The airport was finally decommissioned fully in 1970 and transferred to civilian operation. However, Black said that doesn't mean the military doesn't still have a home there.
"A lot of military comes through here, especially the National Guard," he said. "When they deploy or recover troops going on any kind of mission, they do most of that out of the airport. Last year, we had about 6,000 troops in and out of Smyrna. There is a piece of the airport the National Guard still owns and operates. They have a lot of training schools here people transition through and a medical unit here. There are several different units that operate from the Smyrna Airport, and then there is a joint facility used by the Army, Navy, and National Guard. There is still a big military presence here. They're great neighbors, and we love working with them."
While no longer a military base, the Smyrna Airport is still home to a Tennessee Army National Guard helicopter unit that operates 60 helicopters with around 300 full-time personnel. The Tennessee Air National Guard also leases part of the airport facility for its Grubbs/Kyle Training Center, which supports 24 units and 1,270 part-time and full-time personnel.
For more information on the TDOT Airport Economic Impact study, visit https://www.tasp2040.com/.