State officials discuss strategies for water, broadband ARP projects
By KATE COIL
TML Communications Specialist
With municipalities across Tennessee determining the best way to invest ARP funds, state officials highlighted some things they will be looking for when funding water, wastewater, and broadband infrastructure projects.
State officials shared information on how these projects will be funded and the best approach cities can take to ensure their projects get noticed at the Tennessee Municipal League Annual Conference in Chattanooga.
Sarah Freeman with the Horne Group said her organization will be working hand-in-hand with the state and local governments to provide guidance on projects, beginning with a series of webinars that began in September and will run through Nov. 17. For those who did not see the webinars live, there are being recorded and will remain available on the Tennessee Department of Finance and Administration's website.
"The state is running this local government technical assistance program in recognition of the additional burdens that come with being a direct recipient from the federal government," Freeman said. "The goal is to help you with those additional items, that additional challenge presented by you being the one who holds the ultimate responsibility for determining how these funds are used for eligible projects and in compliance with all regulations. This program will ensure you have access to consistent communication from the state and tools for planning and implementing ARPA funds."
After the webinar series ends, Freeman said the state will be keeping government officials up-to-date with additional communications online as well as through a newsletter.
Freeman said the Horne Group will also be working with local governments to conduct eligibility reviews of potential projects.
"This is essentially where you provide a listing of all of your projects using these dollars," she said. "You show why this is a necessary expense due to COVID-19 and this is why we want to do this. There are some additional elements that are required for treasury reporting. Our team will come and take a look at that for you. We will say what we think will most likely be eligible, here's what will not be, here is what will require some additional information, and here is where you could run into some risky gray areas and you will have to make a decision as a local government if you take this on."
Emily You, broadband grants manager with the Tennessee Department of Economic and Community Development (TNECD), outlined goals for broadband-related projects as part of the ARP funds. You said the state was receiving $500 million for broadband, which is being divided into $400 million for infrastructure and $100,000 million for adoption.
"While the deadline to spend funds isn't until the end of 2026, since these projects are pandemic related we really want to get broadband access out there as soon as possible," You said. "We are most likely to impose a shorter deadline because those broadband projects will likely be three-year projects. We are wanting to get people connected as soon as possible."
You said Gov. Bill Lee has provided guidelines to ensure at-risk and distressed counties are given prioritization for broadband projects. You said the state is also putting $50 million into the residential service subsidy program.
"The FFC's Lifeline Program recently rolled out the Emergency Broadband Benefit Program," she said. "This is really meant to emulate that and take its place when it runs out. With the current federal infrastructure bill, they are talking about making the EBB permanent. If that happens, these funds will be reallocated into the infrastructure program."
You said the state is already hearing from internet providers about areas where they are interested in working with ARP funds.
"We really want that communication to be a two-way street," she said. "We want to make sure that providers are really covering those areas that need it or are underserved. We are encouraging a local community match on these projects. Due to some procurement guidelines that are coming out on these particular funds, communities may need to conduct an RFP to identify that provider partner."
Dr. Kendra Abkowitz, director for the office of policy and sustainable practices with the Tennessee Department of Environment and Conservation, said there are three strategies for how the state plans to administer funds water and wastewater infrastructure.
"We are really taking three different strategies," Abkowitz said. "The first is formula-based non-competitive grants. The vast majority of these funds will go through that mechanism. Second are the state strategic projects. Those will be primarily led by the state or an entity that we chose to contract with. The third-tier strategy is our clean-up strategy, and that basically calls for competitive grants during a second phase."
Abkowitz said the state has identified some priority projects that will have high return on investment and bolster future community success. Many of these projects have long been priorities for the state, local governments, and federal agencies.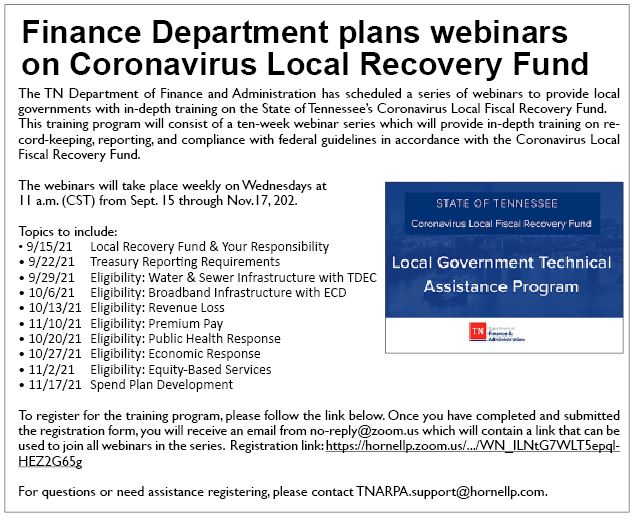 These priorities include asset management, line replacement, plant or facility upgrades, regionalization and consolidation, stormwater management, and nonpoint source pollution. Abkowitz said projects containing at least three of these priorities will be more competitive.
She said the state plans to distribute formula-based, non-competitive grants with $200 million split equally among all counties and $800 million split based on population within county area.
"I do want to note that we do recognize that county boundaries do not often – and in fact very rarely – align very nicely with water system or utility service areas," Abkowitz said. "We are being very strategic in terms of how we design these program requirements to make sure we are encouraging collaboration between counties, locals, and utilities."
The state will require a local match for water and wastewater projects of between 20-40%, determined by an ability-to-pay index similar to that used by the state revolving loan fund.
So far, Abkowtiz said the only approved state strategic project is the updating of the utility scorecards issued to all utilities in the state. She said state officials will be working with the Tennessee Association of Utility Districts on the project.
"Each utility or water system in the state that serves municipal or domestic drinking water, wastewater, or stormwater needs will be required to complete one of these," she said. "This is a tool and a resource that we have put out there to support systems in basically in diagnosing and providing a snapshot of their financial, operational, and environmental health. WE see this as a foundational tool that can be helpful as communities work with their systems to determine how to spend these funds. This tool will help you figure out which projects are of the greatest concern for your community."