Tim Kelly elected Chattanooga mayor; four municipalities hold local elections
By KATE COIL
TML Communications Specialist
April elections were held in four municipalities across the state of Tennessee.
As a result, all four municipalities that held elections will have new mayors while several will see new faces on city councils and boards of mayor and aldermen.

CHATTANOOGA
The city of Chattanooga held a run-off election on April 13 that decided the city's new mayor as well as several unfinished city council races from the previous March 2 municipal election.
Tim Kelly defeated fellow challenger Kim White to replace outgoing Chattanooga Mayor Andy Berke. Kelly earned 15,966 votes to White's 10,661. A local businessman and philanthropist, Kelly was sworn in on April 19, alongside other new members of the Chattanooga City Council
"Under my leadership, Chattanooga will get back to basics," Kelly said during the inauguration ceremony. "City services will be more responsive, and we will clearly communicate how and when things are going to get fixed. To put it simply, we are going to fill a lot of potholes and pave a lot of roads, striving to make it a more enjoyable city for all of its residents."
In the District 2 run-off race, Hamilton County Board of Education Member Jenny Hill defeated fellow challenger Thomas Lee with Hill garnering 1,284 votes to Lee's 850.
Hill will take over the District 2 seat from retiring Councilman Jerry Mitchell. She will retain her school board seat as well.
Isaiah Hester defeated fellow newcomer Dennis Clark for the District 5 seat with Hester earning 1,598 votes to Clark's 1,332.
The District 5 seat was previously held by Russell Gilbert, who chose to run an unsuccessful mayoral campaign rather than for re-election to the District 5 seat.
DAYTON
More than a month after Councilman Caleb Yawn won a special called election to fill the term of the late Councilman Jim Lewis, Dayton voters returned to the polls on April 21 to elect officials to the city's mayoral seat and two council seats.
Challenger Hurley Marsh defeated incumbent Gary Louallen for the Dayton mayoral seat. Marsh garnered 557 votes to Louallen's 382.
A retired Norfolk & Southern Railroad employee, Marsh served 10 years on the Rhea County School Board, including as its chairman and vice chairman. He also served on the Rhea County Election Commission.
Incumbent city councilmen Bill Graham and Steve Randolph kept their seats, defeating challengers including Bo Kaylor, Paul Soyster, and Angie Pierce Stumbo.
Randolph led the vote tally with 455 followed by Graham with 395. Stumbo followed with 325 followed by Kaylor, who earned 273 votes, and Soyster who garnered 269.
JACKSBORO
Voters went to the polls on April 3 in Jacksboro to pick a new mayor as well as a new alderman.
Sitting alderman Shayne Green defeated present Vice Mayor J.C. Miller 180 to 55 votes to obtain the mayoral seat.
Outgoing Jacksboro Mayor June Forstner announced she would not seek re-election after serving 12 years as vice mayor and mayor of the town.
Newcomers Brian K. Osborn and Jimmy Snodgrass took the two open aldermen seats, defeating fellow challengers Jennifer Banks and Roy Lynn Green.
Osborn led the total with 102 votes, Snodgrass with 1010, Green with 99, and Banks with 44. Osborn and Snodgrass will take the seats vacated by Green and Miller when they ran for the mayoral seat.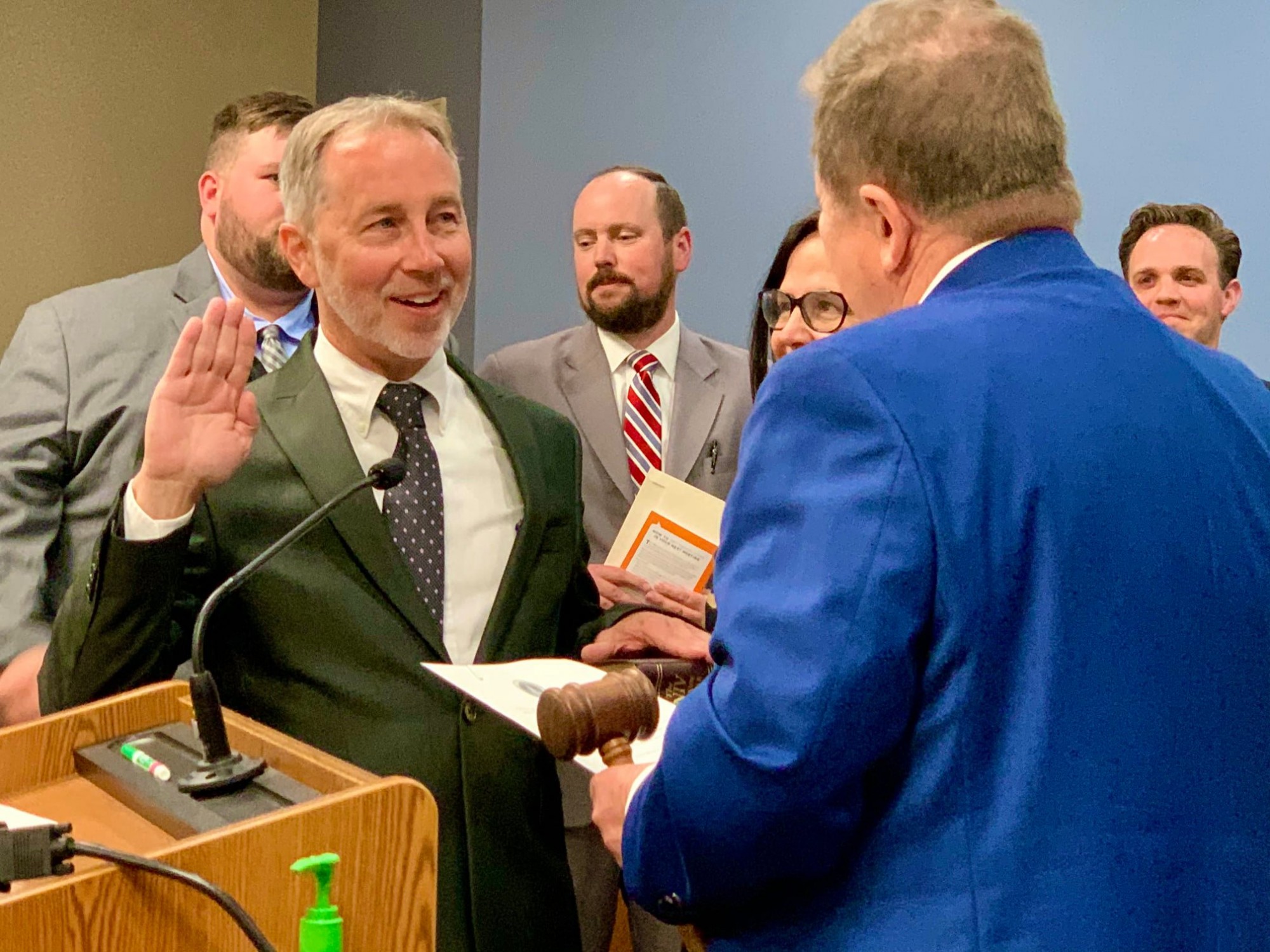 SPRING HILL
Spring Hill has a new mayor and several new faces on its Board of Aldermen following the city's April 8 municipal election.
Air Force veteran and retired facilities manager Jim Hagaman defeated Ward 4 Alderman Vincent Fuqua for the Spring Hill mayoral seat 1,796 votes to 1,219 votes. Hagaman ran in 2015 unsuccessfully for the mayoral seat.
Incumbent Mayor Rick Graham announced he would not seek re-election to the post after 14 years on the board of mayor and aldermen and eight as the city's mayor.
Procurement coordinator Jason Cox defeated Lee Elder 1,840 votes to 626 votes in the Ward 1 alderman race. Elder suspended his campaign in February due to a change in his employment situation. Vice Mayor Amy Wurth decided not to run for re-election to the Ward 1 seat.
William Pomeroy, a retired military police officer with the U.S. Army, ran unopposed for the Ward 2 seat. Incumbent Alderman Jeff Graves chose not to run again for the seat.
Kevin Gavigan was the lone incumbent to retain a seat on the Spring Hill Board of Mayor and Aldermen. Gavingan defeated challengers Brent Murray and Angela Privett by 1,477 votes to Murray's 439 and Privett's 910 votes.
Trent Linville, a lawyer and administrator at the Bridge Church in Spring Hill, ran unopposed and was elected to the Ward 4 seat. Incumbent alderman Vincent Fuqua left the seat when he chose to run for mayor.